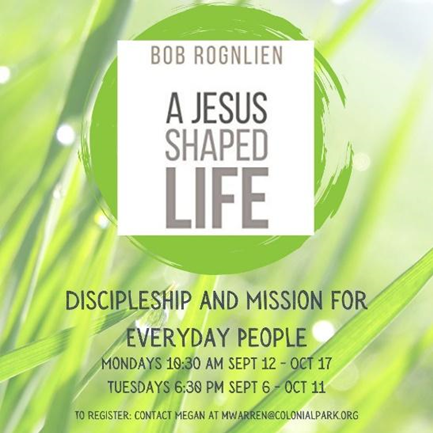 A Jesus Shaped Life
What kind of shape are you in? Discipleship is the process of being shaped more and more into the image of Christ. A Jesus-Shaped Life offers practical tools and strategies to learn how to life a life that looks more like Jesus. 130 pages long and filled with practical diagrams, this little book is written for everyday people who want to live a life of greater fruitfulness and significance.
Join us as we explore A Jesus-Shaped Life. It's a 6-week book study that will meet on Monday mornings or Tuesday evenings.
Tuesdays @ 6:15 pm beginning September 6
Mondays @ 10:30 am beginning September 12
To participate and get a copy of A Jesus-Shaped Life, contact Megan Warren at mwarren@colonialpark.org. If you feel led to offset the cost of the book, please make a donation of $12.  Deadline to order books is August 21.