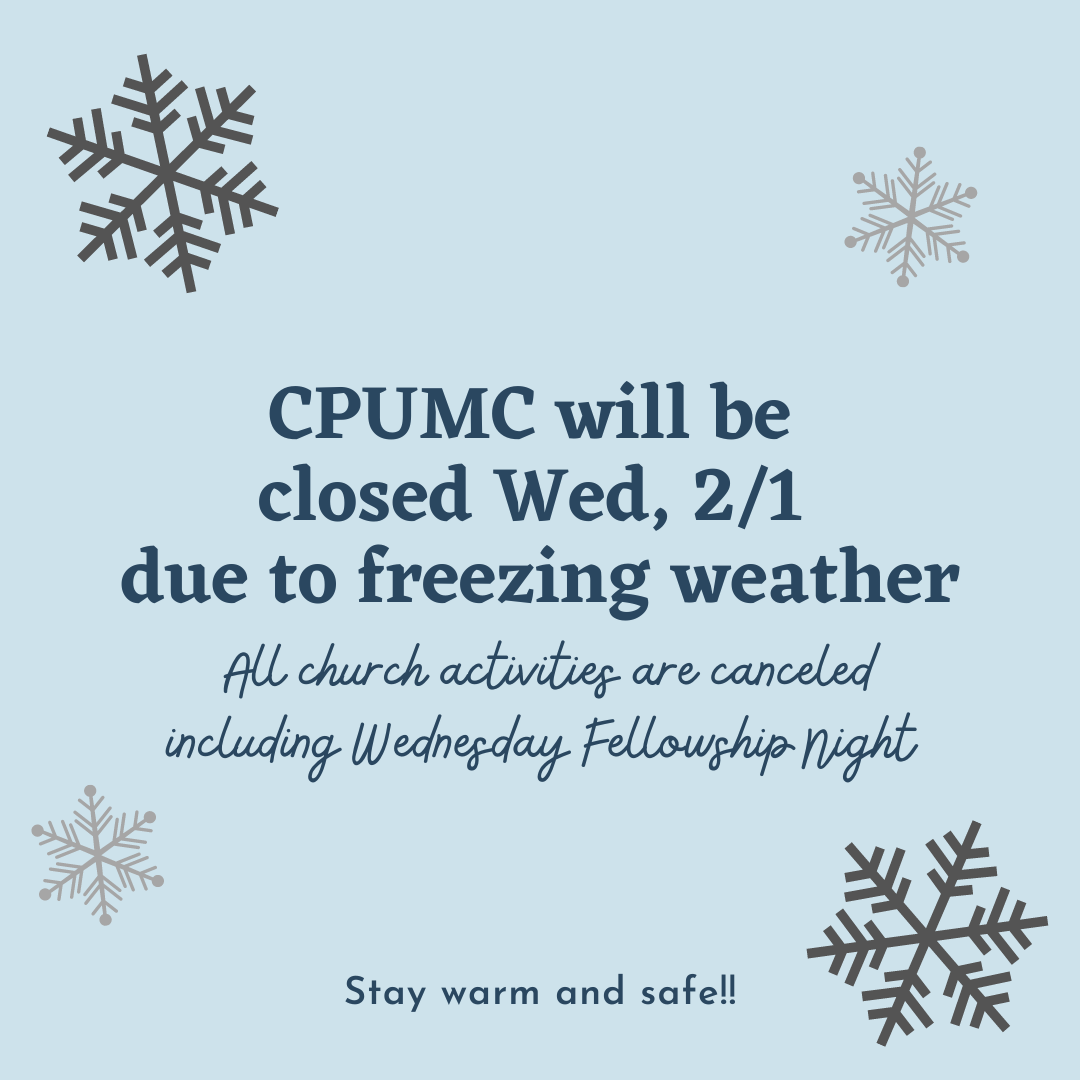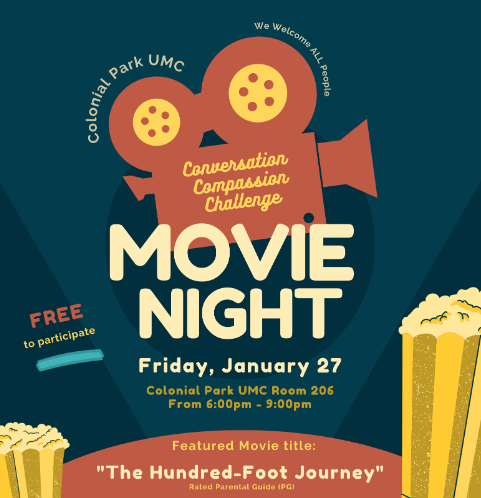 We're launching something new! Beginning this month, we will begin a monthly or bi-monthly dinner and movie night for conversation, compassion, and challenge. These events are part of a new discipleship ministry called In One Spirit: Our Anti-Racism Journey. Our In One Spirit team is prayerfully discerning opportunities for us to grow as disciples in loving our neighbors as Jesus did.
Throughout the year, we will have several dinner and movie nights as the starting point for our conversation. Some of the movies we will be using are: Greenbook, Crash, Hidden Figures, to name a few.
Please stay tuned for the rescheduled date! We'll be watching our first movie, The Hundred Foot Journey, with Helen Mirren with a discussion afterwards facilitated by Terry Durham. It's free to attend. We ask, however, that you register to ensure appropriate food, seating, and childcare if needed.
Please email Megan to sign up.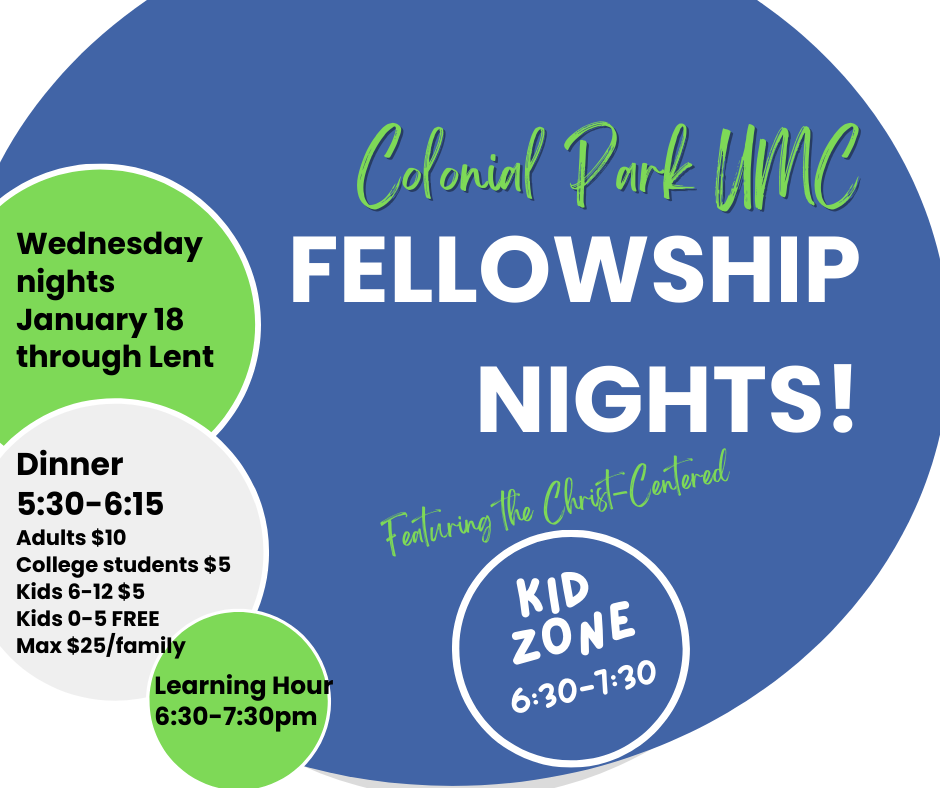 Join us for a home-cooked dinner from 5:30-6:15 followed by an adult learning hour from 6:30-7:30! We will have speakers and/or studies on a variety of topics.

Dinner reservations required! This week's menu: chicken & rice with broccoli casserole
Adults $10
College Students and Kids 6-12 $5
Kids 0-5 FREE
Max $25/family

Make your reservation ONLINE here or by signing up at the Hospitality Counter by Monday at noon.
Kids will enjoy the Christ-Centered KID ZONE from 6:30-7:30!! Kids ages 3 yrs-5th grade will have devotional time & recreation style games in the gym.

Adult Choir will rehearse at 5:30 in choir room.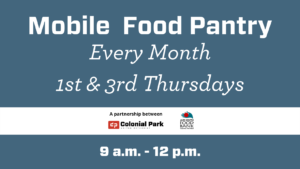 We are blessed to be a part of this service to our community. We serve our neighborhood & our Memphis neighbors by distributing a 2 week supply of food to those who need it. This is a partnership with the Mid-South Food Bank. This time is near & dear to our hearts because we love getting to know YOU!
In need of food? Come on by! We are at 5330 Park Avenue, Memphis 38119. We have food on the 1st & 3rd Thursdays of the month. We begin serving at 9 am and close at 12 pm. The car line forms on Park Avenue and goes east towards Ridgeway Road. Please note, the line begins forming before we open.
Want to serve your neighbors? We always need more hands to help distribute food. Please email gwvaughn@colonialpark.org for more information on where to sign-up. This is a great way to bless & be blessed, and get to know your neighbors.
Can't serve but want to contribute? Did you know that we purchase the food we distribute from the Mid-South Food Bank? We purchase tons (literally) of food for pennies on the dollar to feed from 200-400 people each time we are here. How do we continue to do it week after week? Only because of people like you, with caring hearts, giving to the mission. If you would like to donate, please contact the church office at 901-683-5286 or give online here.
Thank you for being our partners, our prayer warriors & the hands & feet of Jesus!
Our next evening to serve at Room in the Inn is next Monday, December 19 and we need YOU! You can bring food, serve dinner, fellowship with guests, spend the night (in a private room), or even drive the bus (no special license required)! Please take this special opportunity to share the love of Christ with our neighbors who are experiencing homelessness. Sign up here or contact Pam Stevens at 901-581-9058.
Men's Spiritual Quest (via Zoom) Tuesdays @ 8:30 am. This is a men's Bible study & discussion.  Please contact Abbott to join.
Prayer Group Tuesdays @ 10 am in the Garden Room. We meet weekly to pray for our loved ones, our community, our world. If you are in need of prayer we would love to pray for you too. To submit a prayer request online, click here. If you would like to join us to pray, stop in for a visit. We would love to have you. Contact Tyrrell for information.
Seeking God's Kingdom Prayer Group Tuesdays @ 6:30 pm in the Garden Room. We meet and pray for the many that are placed upon our hearts weekly. Our group is open to everyone. Stop by after work & on the way home. We would love for you to join us. Contact Lela for more information.
Men's Breakfast every 2nd Saturday @ 8:30 am. We meet in the Fellowship Hall for breakfast, community & study. No cost & no reservations needed, just show up. For more information please contact Abbott.