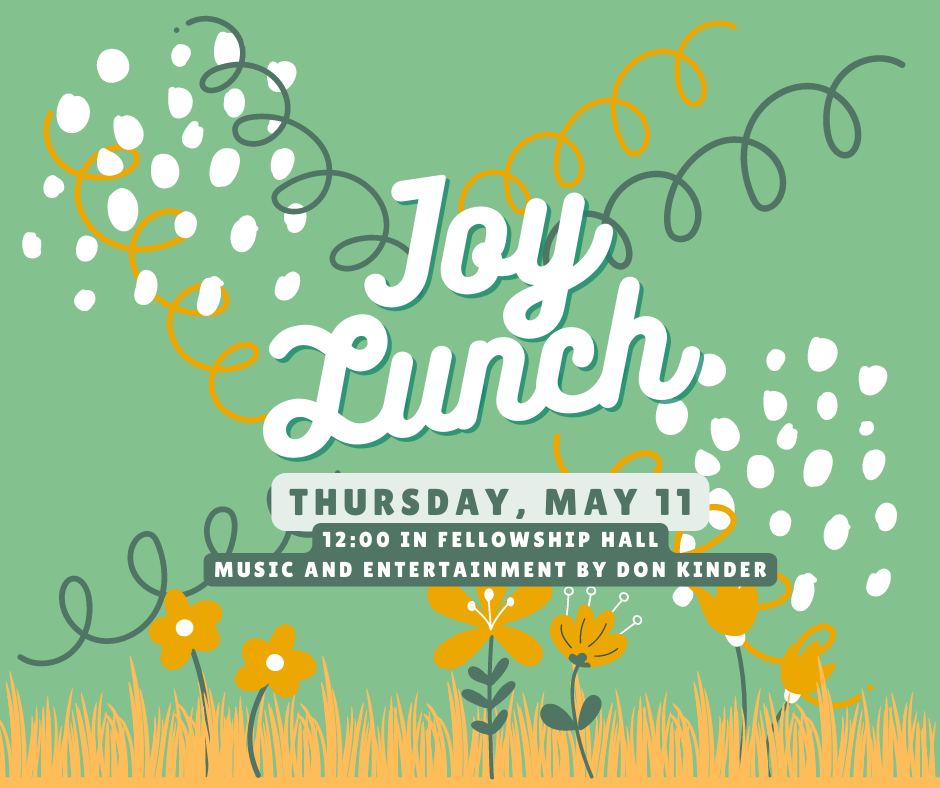 It's time for the monthly JOY lunch! JOY stands for "just older youth" and we meet on the 2nd Thursday of the month for food and fellowship. This month's lunch will be Thursday, May 11 at noon in the Fellowship Hall with musical entertainment by Don Kinder who will be playing all the songs we know and love. Sign up at the Hospitality Counter or by calling 901.683.5286!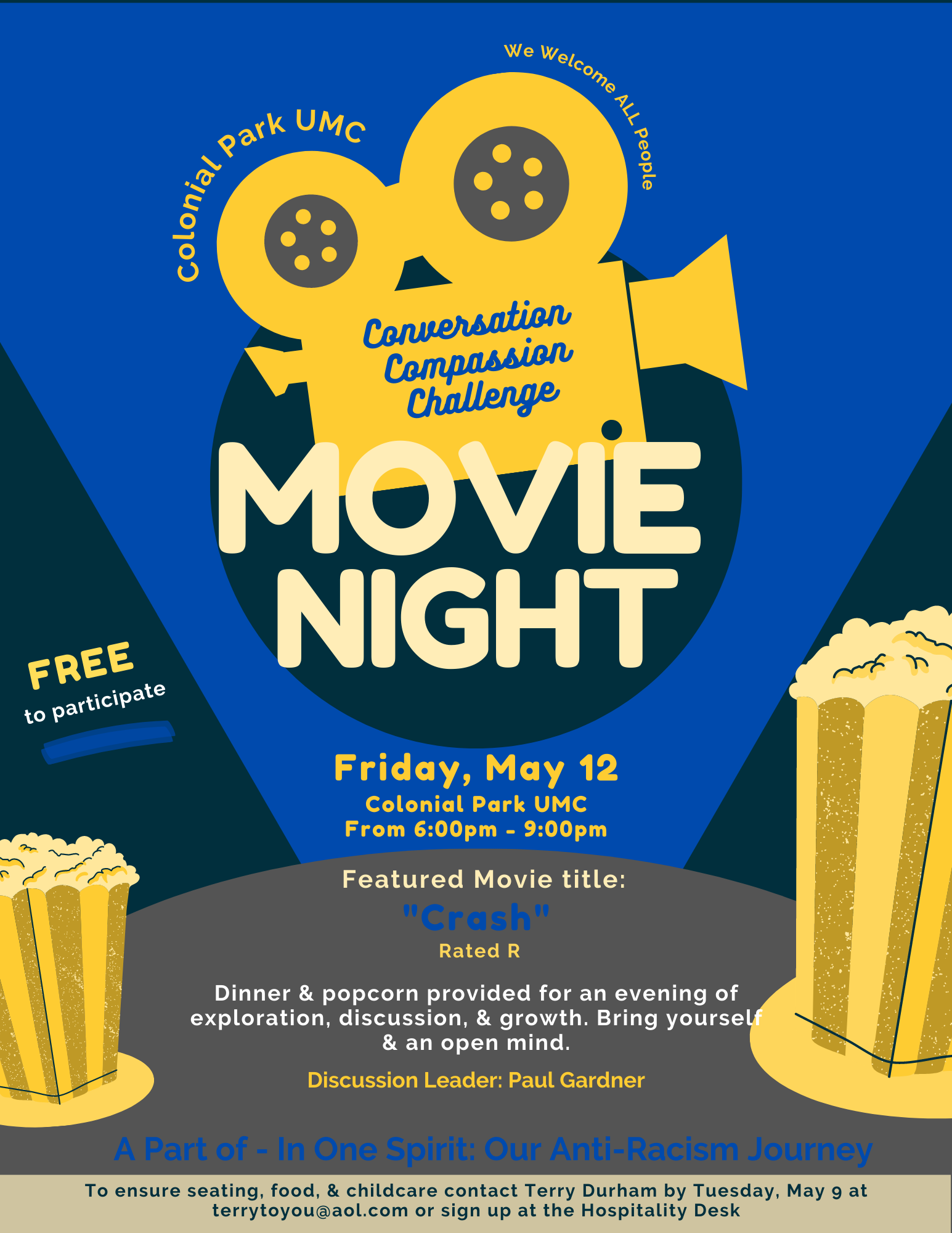 Be sure to sign up for our next dinner and movie night Friday, May 12 from 6 – 9pm. We'll be watching "Crash", with a discussion afterward facilitated by Paul Gardner. Please note that this movie is rated R, so childcare will be provided. There is no cost to attend, but please register to ensure appropriate food, seating, and childcare if needed.
Please email Terry to register or sign up at the Hospitality Desk.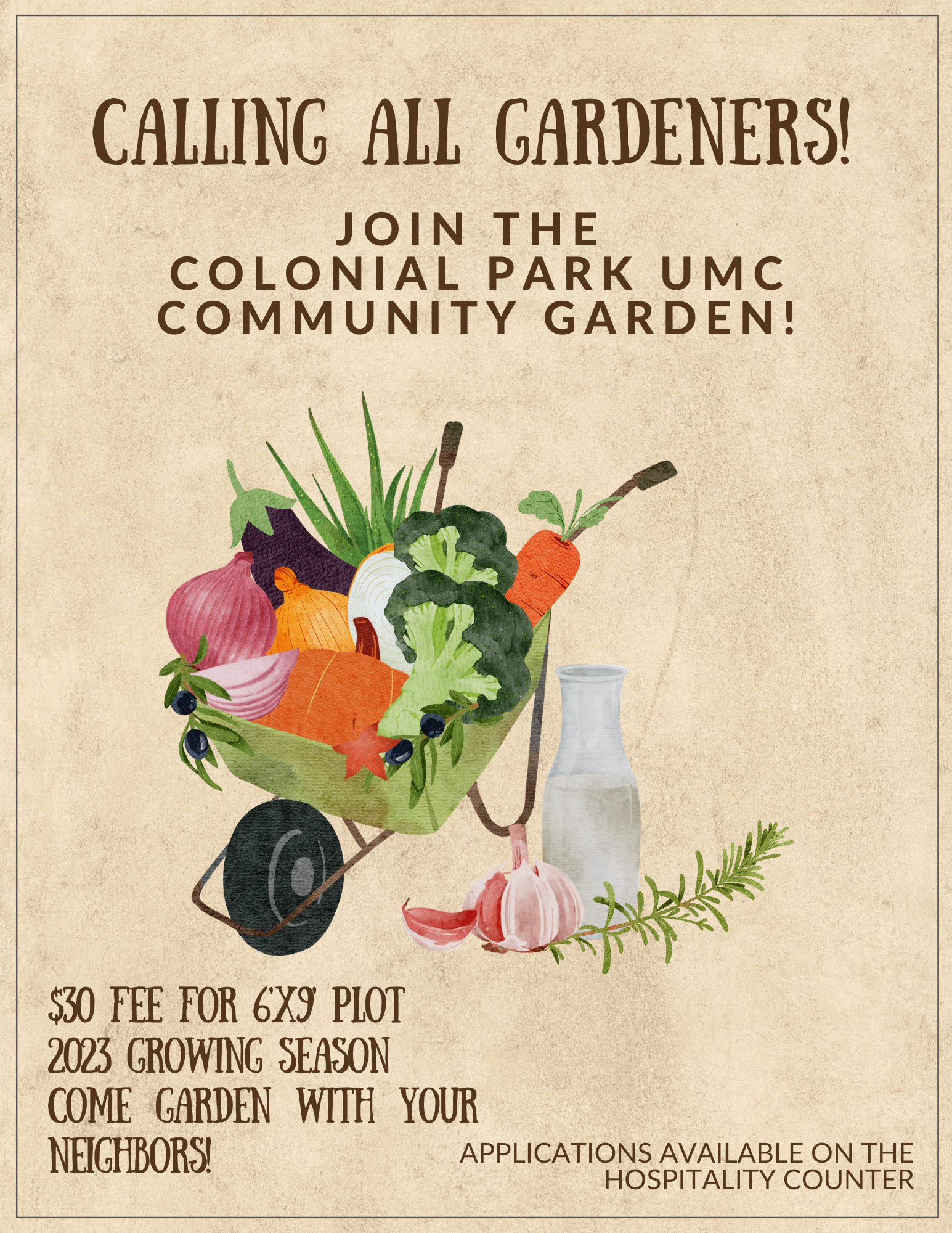 Deadline extended! It's not too late to get a plot in the Colonial Park Community Garden! Stop by the church office to complete your application and pay the $30 fee to reserve your plot!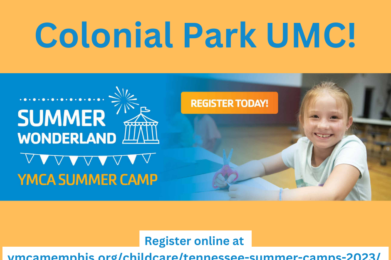 We are excited to announce that this summer CPUMC will be a host for the YMCA Summer Day Camps!!

YMCA Summer Day camps provide an opportunity for children to build meaningful relationships and engage in unique experiences through a week of splashing in the pool, exploring nature, learning new skills, going on fun field trips, and so much more. With a new theme each week, your camper's summer will be full of new activities, new experiences, and memories to last a lifetime. Our holistic approach creates an environment where campers can learn values like honesty and respect, improve personal and family relationships, appreciate diversity, and become better leaders and supporters…all while having fun with their friends! Click here to visit the YMCA Memphis website and register!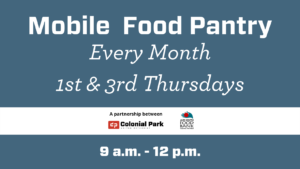 We are blessed to be a part of this service to our community. We serve our neighborhood & our Memphis neighbors by distributing a 2 week supply of food to those who need it. This is a partnership with the Mid-South Food Bank. This time is near & dear to our hearts because we love getting to know YOU!
In need of food? Come on by! We are at 5330 Park Avenue, Memphis 38119. We have food on the 1st & 3rd Thursdays of the month. We begin serving at 9 am and close at 12 pm. The car line forms on Park Avenue and goes east towards Ridgeway Road. Please note, the line begins forming before we open.
Want to serve your neighbors? We always need more hands to help distribute food. Please email gwvaughn@colonialpark.org for more information on where to sign-up. This is a great way to bless & be blessed, and get to know your neighbors.
Can't serve but want to contribute? Did you know that we purchase the food we distribute from the Mid-South Food Bank? We purchase tons (literally) of food for pennies on the dollar to feed from 200-400 people each time we are here. How do we continue to do it week after week? Only because of people like you, with caring hearts, giving to the mission. If you would like to donate, please contact the church office at 901-683-5286 or give online here.
Thank you for being our partners, our prayer warriors & the hands & feet of Jesus!
We serve at Room in the Inn on the first and third Mondays of every month  and we need YOU! You can bring food, serve dinner, fellowship with guests, spend the night (in a private room), or even drive the bus (no special license required)! Please take this special opportunity to share the love of Christ with our neighbors who are experiencing homelessness. Contact Pam Stevens at 901-581-9058 to see how you can get involved.
Men's Spiritual Quest (via Zoom) Tuesdays @ 8:30 am. This is a men's Bible study & discussion.  Please contact Abbott to join.
Prayer Group Tuesdays @ 10 am in the Garden Room. We meet weekly to pray for our loved ones, our community, our world. If you are in need of prayer we would love to pray for you too. To submit a prayer request online, click here. If you would like to join us to pray, stop in for a visit. We would love to have you. Contact Tyrrell for information.
Seeking God's Kingdom Prayer Group Mondays @ 6:30 pm in the Garden Room. We meet and pray for the many that are placed upon our hearts weekly. Our group is open to everyone. Stop by after work & on the way home. We would love for you to join us. Contact Lela for more information.
Men's Breakfast every 2nd Saturday @ 8:30 am. We meet in the Fellowship Hall for breakfast, community & study. No cost & no reservations needed, just show up. For more information please contact Abbott.