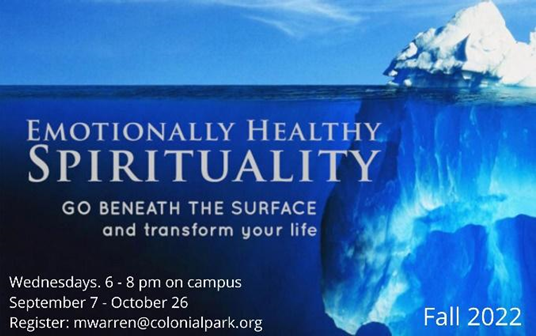 Emotionally Healthy Spirituality
It isn't possible to be spiritually mature while remaining emotionally immature. While trying to live as a faithful follower of Jesus most people still:
Avoid personal conflict in the name of Christianity

Ignore their anger, sadness, and fear

Use God to run from God

Live without boundaries
The Emotionally Healthy Spirituality course uses a biblical integration of emotional health, our relationship with Jesus, and the classic practices of contemplative spirituality to explore seven biblical, reality-tested ways to break through to the revolutionary life Christ meant for you.
To sign up, call the church office or email Amber Braswell at adbraswell20@gmail.com. Three books are included in the class: a textbook, a workbook, and a day-by-day devotional. The class is free, however, we ask that you consider a donation of $20 to offset the cost of the books.