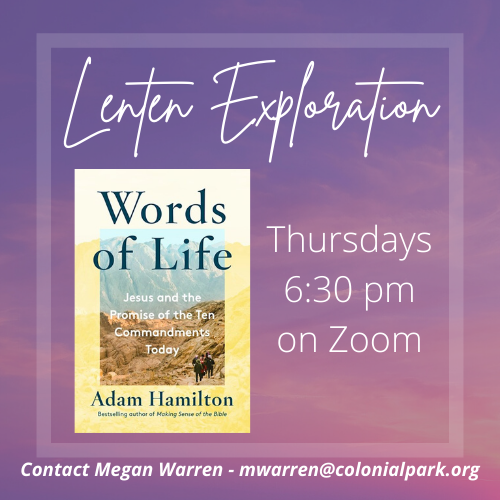 Words of Life – Zoom Lenten Study
Sign up to explore Words of Life by Adam Hamilton as we enter into the 2021 Lenten season.
Beginning February 18 at 6:30 pm on Zoom, Adam Hamilton will walk us through his new study that brings modern eyes to the most important set of ethics in history – the Ten Commandments. He considers the commandments in their historical context, considering the meaning of each commandment in Hebrew, unpacking how Jesus reinterpreted them, and showing how every thou-shalt-not was intended to point to a life-giving "thou shalt." This Lenten study will be led by Rebecca Key and Susan Vaughn over 6 sessions. The book is $19. However, do not let the cost of the book deter you from taking this study. Your participation is of greater value.
Sign up by February 11 by emailing Director of Discipling Ministries, Megan Warren, at mwarren@colonialpark.org.